Steak With a Chive & Whiskey Cream Sauce
Mandy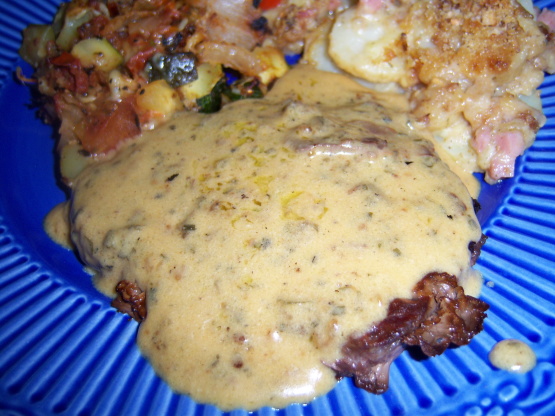 This was in an outdoor kitchen cookbook I picked up in a thrift shop. I don't really like whiskey in drinks but it's fabulous in this!

Loved it! I share your dislike of whiskey in drinks, but in this sauce it was perfect. I chives and the hint of mustard really make this dish. I'm kicking myself now for not taking a picture, because the steaks looked so nice with the sauce and fresh ground pepper. Since it was dark outside, I pan-fried the steaks in a separate pan, but first I cut off some fat and a strip of steak to fry in butter in the sauce pan for this sauce. Thanks for posting Mandy!
Melt butter in pan over a medium flame and seal meat on both sides. Continue cooking for a further 2 minutes Transfer steaks to BBQ & cook to desired degree.
Add chives to pan and cook over a low heat for 1 minute. Sprinkle in flour and stir to combine.
Add remaining ingredients and simmer gently until just thickened.
Serve steaks with whiskey sauce.