karenury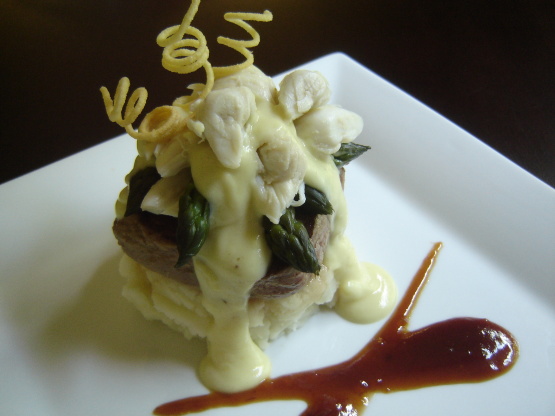 This is so easy and so elegant! Serve it for a romantic or special dinner. Sure to impress!

I make steak oscar frequently. We always have leftovers of steaks we have grilled. I have been using Knorrs bernaise mix for years. I was a finatic about making it from scratch till a friend introduced me to Knorrs. However, to cut down on calories and fat in the bernaise, I use non-fat milk, no butter, and a couple tablespoons (to your taste) of dried tarragon. It's really, really good and almost guilt free. I use shrimp, lobster or crab meat.....whatever I happen to have in the freezer and usually alway have blanced asparagus frozen. I serve it with long grain and wild rice and a nice light pear salad. It's one of our favorite meals and really sooo very easy, especially with the steak being already grilled.
2

filet mignon, 1 1/2-inch thick

236.59

ml butter

226.79

g crabmeat, fresh

170.09

g packageknorr bearnaise sauce mix (packaged gravy section of store)
whole milk
Salt and pepper raw steaks before grilling. Broil 10 - 12 minutes on one side, then 8 - 9 minutes on other side.
Simmer 1/2 stick butter with crabmeat on low heat until warm.
Prepare Knorr's Bernaise sauce with one whole stick of butter and using whole milk only, by following directions on package.
Put asparagus and some water into microwave for 2 - 2 1/2 minutes.
To serve: Crabmeat over steak. Asparagus over crabmeat. Cover with Bernaise sauce.