PanNan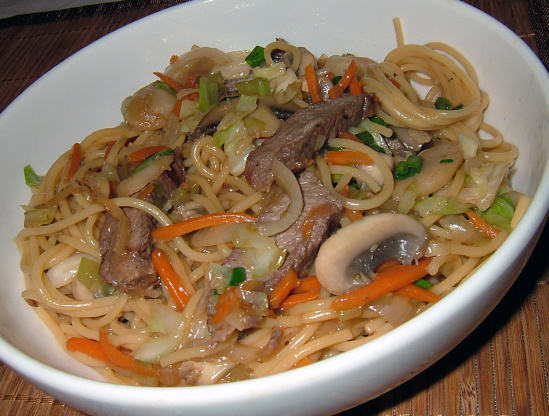 If you like Lo Mein you will love this recipe. Before you start cooking have all ingredients prepped and ready to go. Once you start cooking everything goes together fast.
Freeze steak just until firm; slice diagonally across grain into 1/4-inch strips.
Combine bouillon, water, soy sauce and cornstarch; set aside.
In a wok or large skillet, heat oil on medium-high.
Add meat and garlic; stir-fry until the meat is no longer pink, about 5 minutes. Remove meat to a platter.
Add cabbage, carrots, onion, mushrooms, celery and green onions; stir-fry for about 3 minutes.
Add peas and water chestnuts; stir-fry 2 minutes.
Add meat.
Stir bouillon mixture and pour into skillet; cook and stir until thickened. Gently toss in spaghetti and heat through for 1 minute.