Steak in Rum and Mushroom Sauce for Two
Bergy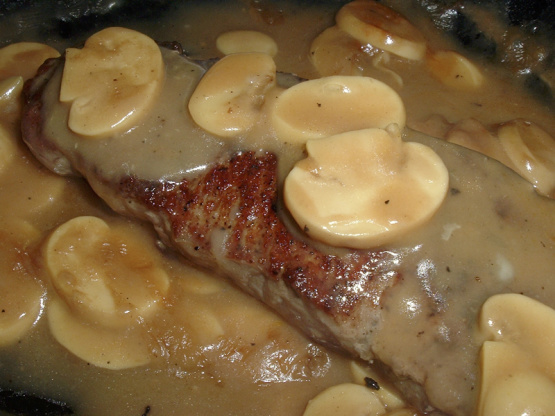 The natural flavors of the mushrooms and rum, as well as the small amount of alcohol will enhance the flavor of the meat. My preference is the Chuck Eye Steak, but any tender cut of meat could be used including a ground beef patty or even a chicken breast. Cooking is a Creative Sport.

Top Review by Kimmie
I would give this more stars if I could! I made this as a surprise dinner for my hubby one night he had to work late. I met him outside and he said "I really hope that smell is coming from our house!" Thank you so much for this recipe... it is actually very simple to make and it is amazing how great rum goes with steaks! Thank you a million times I love it!
Rub both sides of the steak, first with the pepper, and then the olive oil.
Sear the meat in a dry frying pan for 3 1/2 minutes per side or until you are happy with the doneness.
Remove the meat, add the butter and stir until it is melted and starts to turn brown.
Reduce the heat, add the flour, rum, liquid from the mushroom can, and the mushrooms.
Stir until the sauce thickens.
If the sauce is too thick, add the water.
Adjust taste with the salt.
Serve with a baked potato, or another option is to add cooked pasta to the mushroom sauce while it is still in the pan.