Ms B.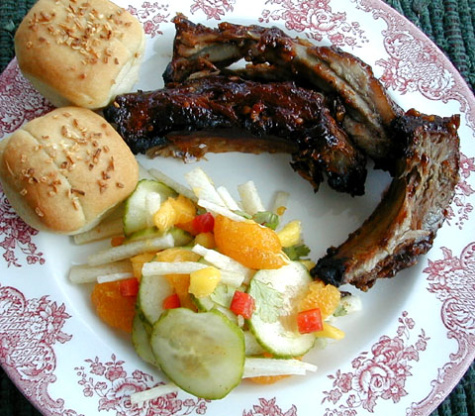 A friend shared this rib recipe with me. Baking the ribs first removes much of the fat and results in easier grilling. Measurements for seasonings are approximate...play with them to find the taste that suits you.
Heat oven to 250F.
Wash ribs.
Combine Seasoning Ingredients in a small bowl.
Rub ribs with seasoning ingredients and place in roasting pan.
Bake uncovered in an oven for 2-3 hours, or until most of the fat has cooked away from the ribs. (You may need to tent the ribs with foil in order to keep them from drying out.)
Combine Sauce Ingredients in another bowl.
Remove ribs from oven (and drain any grease from pan).
Pour over (baked) ribs, turning to cover ribs completely.
Cover ribs with foil and marinate in refrigerator for 30 minutes.
Grill ribs on medium heat until brown, about 10-15 minutes.
Baste with sauce as needed while grilling.