Parsley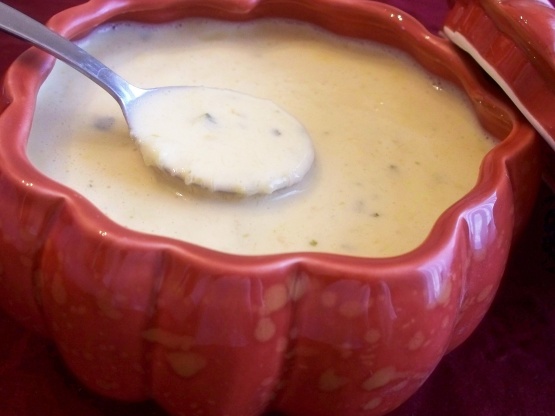 This recipe comes from my Other Half, We like it in the summertime, although we do serve it up throughout the year--usually hot when first made & then as a cold leftover!

very nice flavor. very versatile .... I halved the recipe using a crooked squash unpeeled. once boiled I removed seeds and put thru food processor. used garlic powder and onion powder in place of listed ingredients. once all mixed and reheated i used hand blender to smooth soup. thank you
Slice the squash into a large sauce pan & cover with water.
Cook until very tender, then drain off the water.
Divide the squash & mash half of it, then in the original sauce pan, mix all the squash together with the half-and-half.
On medium heat, reheat the squash mixture.
Meantime, cut the Velveeta cheese into chunks.
When the squash is again hot, add the cheese to the hot mixture, stirring it often as the cheese melts.
The chopped onion & garlic salt can be added as the cheese continues to melt.
When all the cheese is melted, the soup is ready to serve hot. If it's to be served cold, let it cool, then chill it in the refrigerator.