Prep 15 mins
Cook 25 mins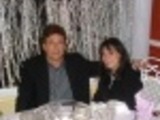 From Good Food Magazine, March 1986. This is not the Greek standard, but a crustless, almost quiche-like recipe that can be cut in wedges and alternated with wedges of Potato-Oat Cake on 2 serving plates.
Directions
Heat oven to 350 degrees. Butter and flour 9-inch tart pan with removable bottom.
Saute bacon and onion in small skillet over medium heat until bacon is crisp and onion golden, 5-7 minutes.
Whisk eggs, cream, basil, thyme, salt, and pepper to taste in medium mixing bowl. Squeeze liquid from spinach. Stir spinach, bacon, and onion into egg mixture. Spread evenly in prepared pan and place pan on baking sheet.
Bake until knife inserted into center comes out clean, about 25 minutes. Remove side of pan and cut pie into 8 wedges. Transfer to serving platter. Serve hot.
Most Helpful
Fantastic recipe and really quick to make too. I used fresh greens out of my vegie patch, fresh basil too. Healthy and deliciously light. I even had a piece for breakfast after the gym !!
I would have to agree that this was almost like a quiche. Made this as written except ommitted the salt, and added a pinch extra thyme. Cooking time right on the dot, and liked the fact that this made for a complete dinner for the 4 of us. (2 slices each). Easy to make/prepare and made for a great meal. Made for PRMR tag.