Ambervim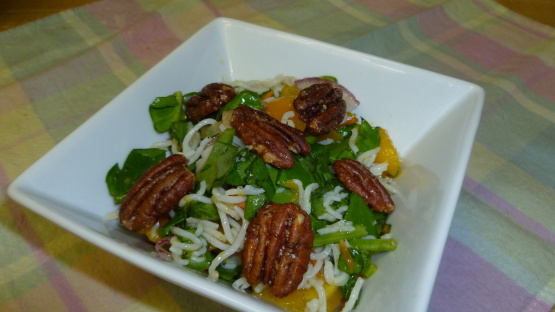 Refreshing and different. I created this out of what was on hand for coffee hour after church. People really liked it and loved a healthy change from the normal sweet snack after church. Scale it back if you are making this for a meal at home or small dinner party.
566.99

g spinach, fresh (plus or minus, rough chopped)

1656.13

ml mangoes, rough chopped (plus or minus, if you live up north try peaches or nectarines, even apples, melon or berries.....ooh)

283.49-453.59

g fine rice vermicelli, dry (follow directions on package, don't have that try rice or even the thinnest noodles you can find)

0

red onion, thinly sliced (rings then cut to quarters)
salad dressing (something fresh and light try Orange Salad Dressing (Or Any Citrus))

118.29

ml nuts, roasted (I like Carmelized Pecans but any spiced or roasted nut will do well)
If you are making this for an event or dinner, store the ingredients separately, combine everthing and dress just before serving. Sprinkle nuts on top and serve.
Be creative and make a variation that works for the bounty of your area.