Spinach and Chickpeas With Bacon
GaylaJ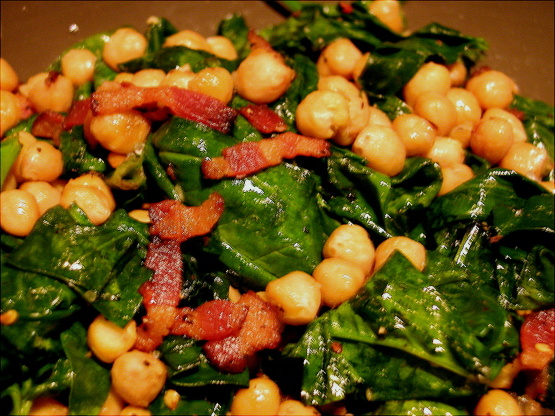 I love this super-fast and easy side, which is adapted from Gourmet. It is also good with a little cumin added, and will handle a larger amount of spinach as well.
Cut bacon crosswise into 1/4-inch pieces and cook in a 12-inch heavy skillet over moderate heat until browned; leave bacon in skillet and spoon off all but 1 tablespoon fat.
Add 2 tablespoons olive oil, chickpeas, and red pepper flakes; saute over high heat, stirring occasionally, until chickpeas begin to brown (3-4 minutes).
Stir in spinach and garlic and saute', stirring, until spinach is wilted.
Season with salt and pepper and drizzle with remaining tablespoon oil.