Rita1652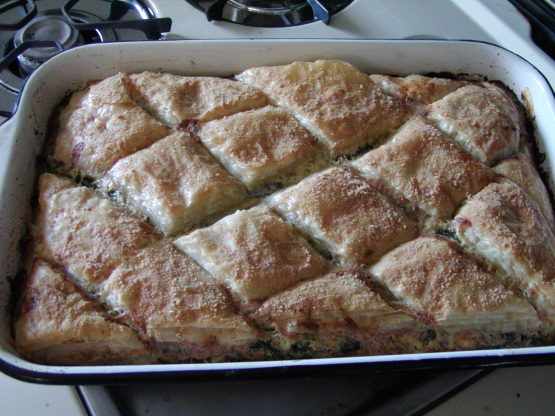 This combines two of my favorite cusines for a great meatless meal complete with a greek salad and a loaf of crusty bread. Recipe submitted for main dish entree in the RSC 6 contest.

Very rich! Salty too! Between the feta cheese & parmesan cheese. Next time I would just top it with a touch of parm. and omit it inside. I used fresh spinach that I cooked with the mushrooms. When I added the flour is when I added the dry milk and left out the water using the spinach juice in it`s place. The feta cheese I used was herbed. I butter can be cut back I had 1/2 a cup left over. I wasn't sure about making slits as you see in the picture I cut all the way through before baking which made it easy to slice at serving time. After 45 minutes baking I turned the oven down to 345 degrees. Didn't want it to brown any more then as you see it! This is an easy recipe to assemble I had a fun time making it. And a good time eating it.
8

ounces mushrooms, sliced

3

garlic cloves, chopped

1

bunch green onion, sliced (6-8)

1

tablespoon dried basil

2

(16 ounce) packages frozen chopped spinach, thawed and drained
1⁄2 cup parsley, chopped

4

eggs

1

lb feta cheese, crumbled
1⁄4 lb parmesan cheese, shredded, divided
1⁄2 lb ricotta cheese (I used part skim)

1

teaspoon powdered milk

2

tablespoons water

2

tablespoons flour

1

cup butter
1⁄2 cup olive oil, plus

2

tablespoons olive oil

1

lb phyllo pastry, thawed (the box I used had 40 sheets)
Melt butter with 1/2 cup oil in a small saucepan and set aside.
In a large skillet over medium heat saute mushrooms with garlic in 2 tablespoons olive oil until tender (10 minutes).
Remove from heat and stir in green onions, basil, salt and pepper.
Set aside.
In a large bowl combine spinach, parsley and mushroom/onion mixture.
Squeeze out excess liquid and stir in flour.
In another large bowl mix together water and powdered milk and then beat in eggs with a fork.
Stir in feta, ricotta and 1/4 cup Parmesan cheeses.
Stir to combine Add cheese mixture to vegetable mixture.
Drain any excess liquid from mixture and then season with salt and pepper.
Preheat oven to 375-degrees F.
Butter a 9 x 13-inch pan.
Set aside 8-10 (or about 1/4) phyllo sheets and cover them with plastic wrap and a damp towel.
Keep the remainder of the phyllo pastry covered with plastic wrap and a damp towel while working with pastry so it won't dry out.
Brush each phyllo sheet with butter/oil mixture and stack in pan, brushing each with butter/oil mixture before placing in pan, stacking pastry sheet as evenly as possible.
When all phyllo pastry is stacked in the pan (except for the reserved sheets) spread vegetable/cheese mixture evenly over pastry sheets.
Then with the remaining pastry sheets, brush each with butter/oil mixture and then place over the spinach/vegetable filling.
Brush with remaining butter/oil mixture and then sprinkle with remaining Parmesan cheese.
Make slits in the pastry.
(I placed the pan on a baking sheet before placing it in the oven).
Bake for one hour or until done.
Let sit for ten minutes and then slice into squares, garnishing with parsley sprigs if desired.