Spicy Sizzle Red Lentil Soup
PaulaG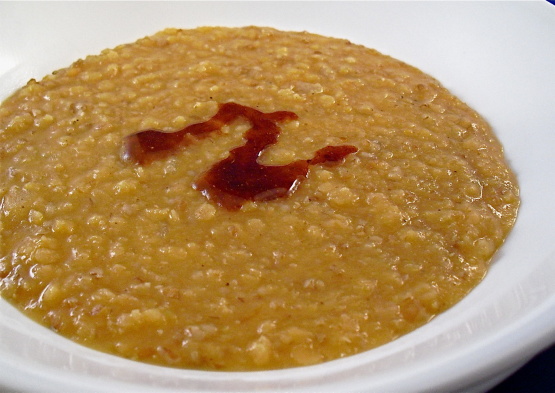 From Eating Well Magazine (1995), this Turkish soup features a delicious, healthful combination of lentils and whole-grain bulgur. A drizzle of sizzling spiced olive oil gives the soup a final flourish.

Fantastic! This tasted so good. We had lots of leftovers, so I froze half and thawed & reheated it a few weeks later and it was still just as good. The spicy oil of course had mixed in with the soup by then, but the flavor & texture held up.
Heat 2 teaspoons oil in a soup pot or Dutch oven over medium heat. Add onion and cook, stirring, until softened, 3 to 5 minutes. Add garlic and cumin; cook for 1 minute.
Add broth, lentils, bulgur, tomato paste and bay leaf; bring to a simmer, stirring occasionally. Cover and cook over low heat until the lentils and bulgur are very tender, 25 to 30 minutes. Discard the bay leaf.
Ladle about 4 cups of the soup into a food processor (or blender) and puree. Return the pureed soup to the soup pot and heat through. Stir in lemon juice and season with pepper.
Just before serving, ladle the soup into bowls. Heat the remaining 4 teaspoons olive oil in a small skillet and stir in the paprika and cayenne. Drizzle about 1/2 teaspoon of the sizzling spice mixture over each bowlful and serve immediately.
TIP - You can replace red lentils with brown lentils; add 1/2 cup water and simmer 40 to 45 minutes.
MAKE AHEAD TIP - Prepare through Step 3. Cover and refrigerate for up to 2 days or freeze for up to 2 months.