Spicy Sicilian Baked Chicken
Glutton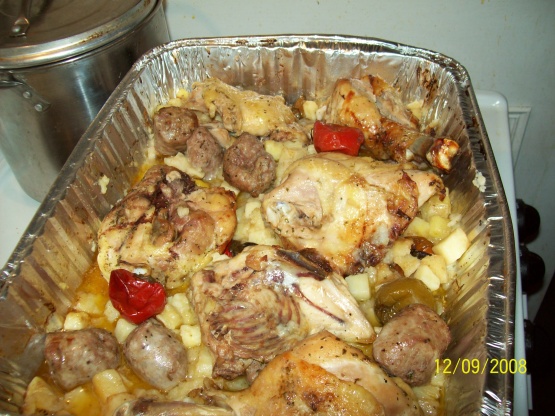 Generously given to me by an online friend (all I know is that her screen name is Succubus - you gotta love a woman with that screen name) that her great-grandmother from Sicily used to cook. As soon as I read it, I had to make it. It can also be made using rabbit. WARNING: the original recipe calls for an ENTIRE jar of hot cherry peppers. It's much too hot this way; only use as many as you think you can stand, because they are HOT!!! Enjoy.

This was yummy. Wasn't much fuss and served with rice it was quite enjoyable.
1 1⁄2 lbs chicken pieces (I use a mixture of legs, breasts, thighs, with skin on)

10

ounces sweet Italian sausage, cut into 2 inch chunks
white potato, cut into wedges (about six medium)

6

pickled hot cherry peppers (in vinegar)
dried poultry seasoning
Preheat oven to 350°F.
Place the chicken, sausage and potatoes in a 9x13 baking pan.
Scatter as many hot cherry peppers as you feel comfortable with (I love heat, so I put a lot!) in the pan.
To really get the flavor, drizzle a bit of the pepper/vinegar "juice" from the jar over the chicken, etc.
Drizzle the whole thing with olive oil, then season everything with salt, pepper and a bit of oregano.
Bake until chicken is cooked through - depending on size/type of chicken pieces, about 70-80 minutes.
Eat ravenously.