Spicy Shrimp Stuffed Shells Salad
Rita1652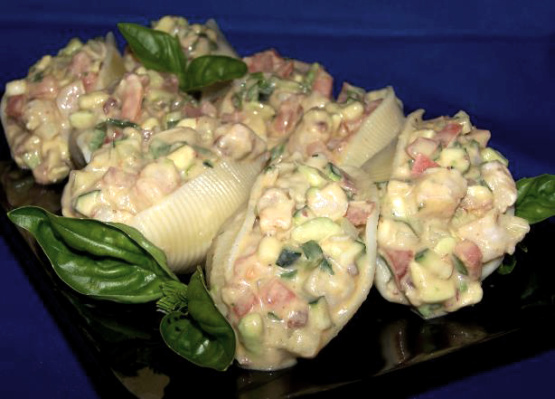 Go ahead and say that 3 times fast! LOL! 0) Here you have have a spicy salad stuffed into jumbo pasta shells made easy for fun finger food.

Top Review by Bergy
How can I not give this recipe 5 stars? It boggles the mind what is possible with this as a base recipe and the variations possible for wonderful attractive tasty appetizerswithout the old Ho Hum covering. Loved the recipe changed a couple of things but not drasticalyy We loved it! There will be many more varities of it in the future Thanks Rita for a super easy, attractive, tasty recipe.
Toss salad ingredients together.
Toss dressing ingredients together, add to salad and stir to coat.
Stuff and I mean stuff liberally into the shells. Chill for 1 hour. Garnish with fresh herbs and plate of a bed of fresh greens if desired.