Spicy "Creamed" Corn (Dairy-Free)
Debbwl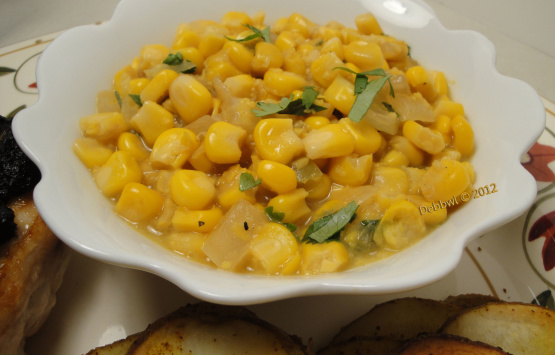 Chef Sara Moulton was inspired by a corn soup thickened with pureed corn. From the local newspaper. This is also vegetarian if you use vegetable broth or water.

Delicious! For this recipe I didn't include the lime initially, but then tried it with it after. I think i prefer it without the lime. I used oregano for the herb, and used water instead of the both, it turned out great. I like how the chili is adds a nice kick to the dish.

Give it a try!
Carefully cut the kernels off the ears, sawing down with a serrated knife. You should have about 6 cups kernels. Remove seeds and ribs from chili, if you wish.
In a blender, combine 1 cup of the kernels and 1/2 cup of the broth. Puree until smooth. Set aside.
In a large skillet over medium, heat the oil. Add the onion and a pinch of salt, reduce the heat to moderately low and cook, stirring occasionally until golden, about 8 minutes.
Add the remaining corn kernels and another pinch of salt. Saute for 3 minutes.
Add the chili and pureed corn then bring the mixture to a simmer and cook for 2 minutes.
Stir in the remaining broth, the lime juice and basil or cilantro or herbs of your choice. Season with salt and pepper and simmer for another minute.