Lvs2Cook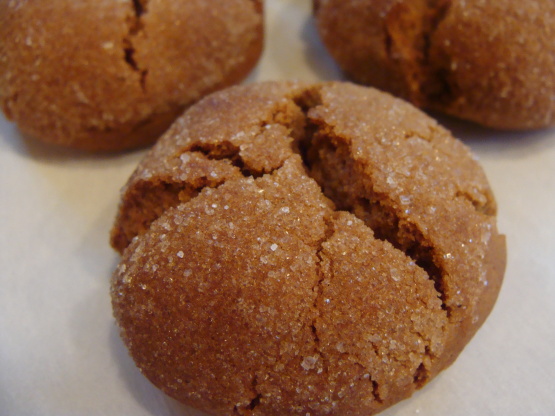 A wonderfully full-flavored cookie that is covered in sugar. I usually chill overnight and the dough does not get rock hard. I use tablespoonfuls of dough and get about 28 or 29 cookies.
I have tried several recipes for molasses clove cookies and this one, hands down, is the best. Another recipe called for 4 cups of white whole wheat flour, and doesn't come close to the chewiness of this cookie. I used turbinado sugar to roll these in, which added a slight crunch, but followed the recipe as written. My 12-, 14-, and 18-year-old boys surprisingly find them just as delicious as I do. I love clove, and will add more next time I bake these, but that is just preference.
Mix together shortening, brown sugar, egg and molasses.
In separate bowl, stir together remaining dry ingredients except white sugar. Then mix dry ingredients into shortening mixture.
Chill dough 2 hours or overnight.
Roll dough into balls the size of large walnuts and dip tops in sugar. Place on lightly greased baking sheet about 3 inches apart, sugared side up.
Bake in a 375º oven about 10 to 12 minutes until just set but not hard.
Cool on wire rack.