Spicy Fig Orange Microwave Jam
Susy J.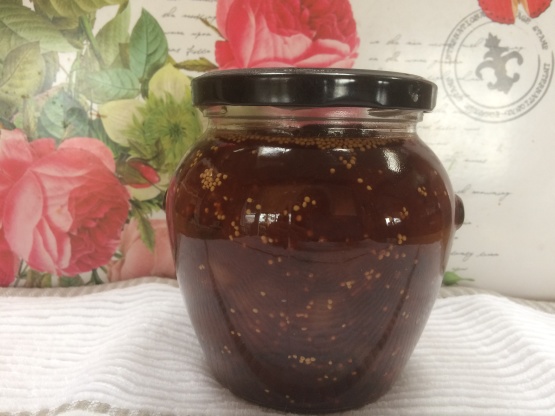 From Simply Recipes and it is wonderful. This makes small batches. You can use mild green or mission figs and is great as a dipping sauce too.
What a thrill! I have made my very first Fig and Ginger jam in the microwave. I did however make some changes. I only had 500gm of figs so halved everything including the sugar. I then added 1/4 tsp cinnamon, 1/4 tsp cloves and the juice of 1 small mandarine as well the citrus in the recipe. Then with about 4 minutes to go in the final cooking I added 1 Tbs of pectin and stirred. It set like a gem and looks and taste amazingly wonderful. Thank you for giving my the courage to use the microwave instead of the stove top.
1 1⁄2 cups diced fresh figs (6-10 figs, depending on the size of the figs)
1⁄2 cup orange, seeded peeled diced
1 1⁄2 cups sugar (reduce if you want, though it won't set as well)
1 1⁄2 teaspoons orange peel, grated

3

tablespoons lemon juice
1⁄4 teaspoon ground ginger
1⁄4 teaspoon ground cloves
1⁄4 teaspoon cinnamon
1⁄2 teaspoon butter

2

(8 ounce) canning jars
Place the ingredients in a large ceramic or glass bowl or casserole (a 2-quart Pyrex measuring cup works great), stir to combine, let sit for 30 minutes for the fruit to macerate in the sugar.
Place in microwave.
You will cook the fruit mixture on the high setting for approximately 15 minutes.
As soon as the mixture starts to boil, after about 6 to 8 minutes, stop the cooking and stir.
Continue cooking and stir every few minutes. At about 13 minutes the mixture should start to get viscous.
If you spoon out a bit on to a small plate that has been in the freezer, you can push the mixture around a bit with your finger tip to see how thick it is.
If it is runny, cook it a couple minutes more.
You can also check by seeing how the jam runs off of a spoon. If it seems to firm up a bit as it drips, it's done.
If you use a large Pyrex measuring cup, you can see that you start with close to 3 cups of liquid. You want to boil it down to 2 cups.