Dimpi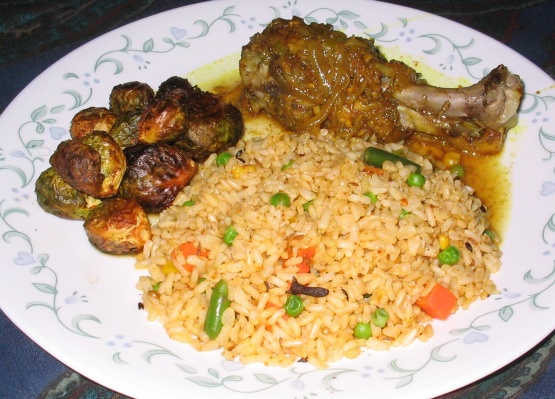 I used to cook this in the oven before I had a crock-pot. For the oven: cook it in a covered dish for 1 1/2 to 2 hours at 300F or until the chicken is cooked and tender. Serve with rice and cooked or steamed vegetables. If you don't like to use the whole spices, substitute them with ground. The lemon and chilies are not authentic to this Jewish-Indian recipe.

A delicious recipe Pets. I love spicy food and hot food. I found that this recipe has a wonderful well-balanced mixture flavours. What we really liked was that the flavours went right into the bones of the chicken bones. My family seat at the table sucking on the bones and then they went back for seconds. This is a lovely aromatic tasty meal and it is very easy to prepare. Thank you for posting it for us Zaarians and I hope that this recipes attracts a lot of 5 stars because it deserves it.
Season the chicken and fry in the oil until browned, remove from the pan.
Fry the onions until soft and then add the rest of the ingredients, except stock and parsley, and fry for another 2 minutes.
Mix with the chicken and put it all in the crock-pot.
Pour over the stock and cook on low for 4 to 6 hours, depending on your crockpot.