Spicy Catfish Tenders With Cajun Tartar Sauce
gailanng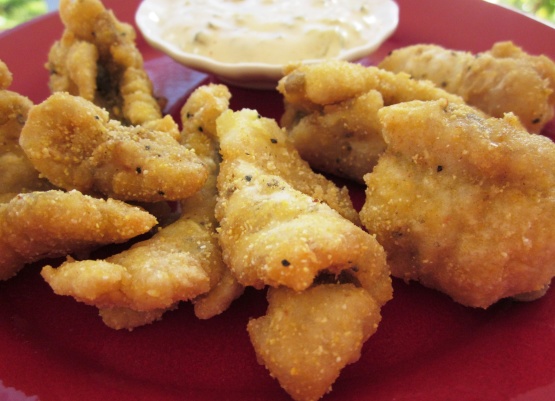 This recipe is for people who like catfish and spicy foods. I haven't made as we don't care for this much hot spices. Though we do really like catfish. The tartar sauce can be made 2 days a head and chilled. recipe comes from another site.

This was absolutely delicious! We could not quit eating it. I doubled the recipe and we ate until it was all gone. I will be making this one again. It is a keeper. I am really sorry that I am late on this review. I think that I am about 2 weeks late but I am so happy that I made it. I do have to say that the next time I will cut the salt a little. It wasn't too salty but it made us really thirsty afterwards. This is excellent. Thank you for posting it.
For fish

1

large egg

2

tablespoons hot sauce
1 1⁄4 lbs catfish fillets, cut diagonally into 1/2 inch-wide strips

8

cups canola oil, about (for frying)
1⁄2 cup flour
1⁄2 cup yellow cornmeal (not coarse)

1

teaspoon salt

1

tablespoon cajun seasoning

For tartar sauce

1

cup mayonnaise
1⁄2 cup sweet pickle relish

2

tablespoons capers, rinsed, drained and chopped

1

tablespoon fresh lemon juice

1

tablespoon prepared horseradish

2

teaspoons hot sauce

2

teaspoons cajun seasoning
Make Tartar Sauce: Stir together all ingredients in a bowl and chill, until ready to serve.
Prepare fish: Whisk together egg and hot sauce in a wide shallow dish.
Stir in fish strips and let stand at room temperature at least 10 and up to 30 minutes.
Pour enough oil into a 4 to 5 quart heavy pot to measure 2 inches and heat over medium heat until thermometer registers 350°F (you can use a fry daddy) Stir flour, cornmeal, salt and Cajun seasoning in another wide shallow dish.
Fry fish; drain fish well in a colander.
Dredge one fourth of fish in flour mixture shaking off excess flour, then fry in oil, stirring occasionally with a slotted spoon, until golden brown and just cooked through,1 1/2 to 2 minutes, remove with slotted spoon and drain on paper towels.
Repeat until all fish is fried.
Serve hot with tartar sauce and lemon wedges.