Spicy Cajun Pasta Like Tgi Fridays
Prep 10 mins
Cook 10 mins

I found this copycat recipe online in a group called Dear Chef Secrets. It's supposed to be pretty close to the one served at the restaurant.
Directions
Heat oil in saute pan.
Add garlic and saute for 30 seconds.
Add onions, saute one minute, then add peppers and continue to saute another minute.
Deglaze with chicken stock, reducing by half.
Add V-8 juice and cayenne pepper.
Bring to a boil and simmer for 10 minutes.
Thicken with cornstarch to desired consistency.
Season with salt and pepper.
Add cooked pasta to sauce and heat through until hot.
Arrange on serving dish and top with chicken breast.
Sprinkle with Parmesan and parsley.
Most Helpful
I made this as described, other than mixing the chicken in with the sauce. This made a lovely coating sauce, with a tangy flavour that we very much enjoyed. Even my rather picky younger daughter enjoyed this dish, the cayenne pepper is just enough to please the palate without being ' burny '. Thank you lazyme, lovely recipe, quickly prepared for a good midweek dinner, dish, this recipe was made for My 3 Chefs 2012.

Oh my goodness, this is SO delicious!! A gorgeous clingy sauce that just coats the pasta and topped with the chicken, this was the perfect dinner after a busy day working! So much flavour and it's really quick to make!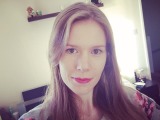 No. Don't waste your time. This has some heat but the dish is so bland I have to do a major spice adjustment for the lunch leftovers. Beyond boring. Might just call it a fail and pitch the leftovers.