Syrinx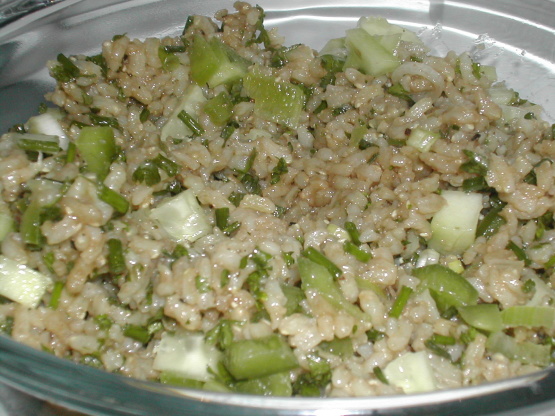 A cold rice salad that is an excellent companion dish in the summer. It is also a convenient make ahead dish to stream line meal prep for large gatherings. Feel free to play with the herbs used in the salad. Just remember that the herb that is added while the rice is still hot will be the dominant flavor.

This is a wonderful, refreshing dish! I doubled the dressing and used a lot of vegetables (also added celery) because I like lots of crunch. I didn't have the parsley or the chives, so had to leave out, and used finely chopped red onion. Mz. Cat, thanks for a great recipe! I look forward to making it again!
Cook rice. While still hot mix with olive oil, vinegars, salt, pepper, and tarragon.
Let stand to cool for at least an hour. Add remaining ingredients.
To increase protein in this dish, garnish with crumbled hard boiled egg.