Spiced Orange Yams and Pork Chops
Bergy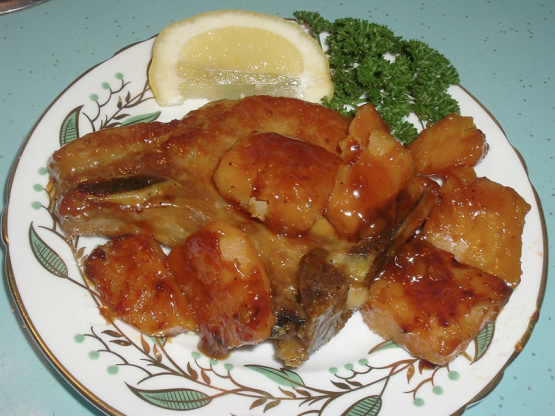 From a newspaper clipping (Chicago Tribune 1972) found in my Great Aunt's recipe collection.

Top Review by Bergy
This is super good. The orange flavor with the yams & pork is so good. I cooked the chops and yams uncovered for the last 20 minutes allowing the syrup to brown and coat both the chops and the yams - I kept rotating the yams. I used brown sugar substtute and cut back a bit This is an "Impress the Folks" recipe Thanks HF PS excuse the slice of lemon in the picture I didn't have an orange and I thought it looked nice. -- posted Sep 16, 2004
Drain yams, saving canning liquid; set aside yams for now.
Measure out about 2 cups liquid (add water if necessary) and add orange juice, sugar, lemon juice, and seasonings.
Brown chops well on each side in oil in a heavy skillet; drain off fat- don't overcook, just brown them.
Pour syrup mixture over chops, cover, and simmer on low heat for 45 minutes,turning chops over occasionally and adding a touch of water if needed, and adding the yams during the last 15 minutes of cooking time, spooning the sauce over the yams and chops to coat.
Serve chops with yams and sauce ladled on top of each serving, garnished with a parsley and orange slices.