Spiced Chocolate Chip Pancakes
loof751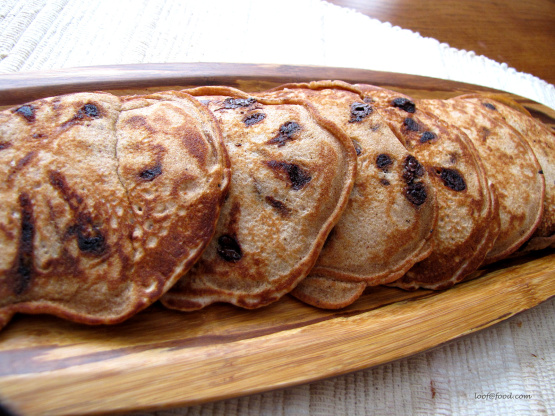 A great spiced pancake batter I made myself, and should be good with kids, you don't even have to put syrup on these, I personally like these without syrup and if you do I recommend real maple syrup.

The batter for these pancakes is very thin and I was concerned at how these would turn out. The cakes cooked up nicely but are much thinner than we like. The cinnamon and chocolate is a great combination that was very good. I will make this recipe again but will add less milk for a thicker pancake. Made for Spring 2013 Pick A Chef.
Take a paper towel and coat with oil and rub fry pan or griddle with the oiled paper towel or spray with cooking spray.
Combine remaining ingredients in a large mixing bowl or large measuring cup.
Cook until edges are solid and then flip, side that was it started on should be dark not golden.
Repeat the previous step.