Spice Muffins - Bad As You Wanna Be
Chilicat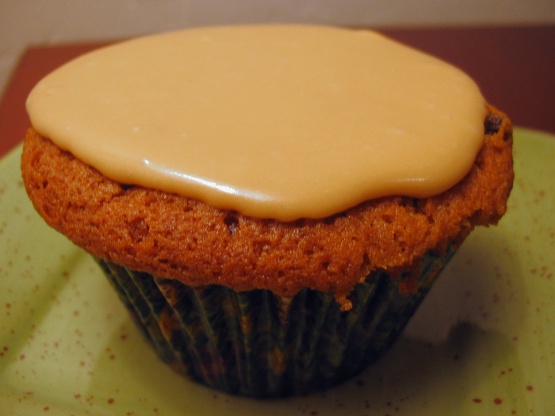 Yummy yummy! From the 1950's and warm and spicy with a brown sugar icing that is butterscotchy good! I think this recipe comes from Star Bakery in Brooklyn, NY.

These are definitely rich muffins! With all the spices I thought they might turn out really strong, but the flavor was just right. The icing is tasty but very sweet. The consistency is perfect though - it smooths out as soon as you spread it and quickly forms a crust and dries to a shiny finish. Thanks for posting!
Preheat oven to 350 degrees. Grease 12 muffin cups.
Combine water and raisins in a saucepan; simmer 10 minutes. Set aside; do not drain.
Cream shortening and sugar. Add egg and raisins and reserved liquid. Combine dry ingredients and add to creamed mixture; mix well.
Stir in walnuts, using.
Divide batter among prepared muffin cups.
Bake 20-25 minutes or until muffins test done by inserting a toothpick that comes out clean.
Cool 10 minutes, remove from pan and cool completely on a rack.
To make frosting:
Combine brown sugar, half and half and salt in a sauce pan.
Bring to a boil over low heat and stir until smooth,.
Stir in butter and vanilla.
Remove from heat, cool slightly.
Stir in confectioners' sugar.
Frost muffins; top with nuts, if desired.