Bergy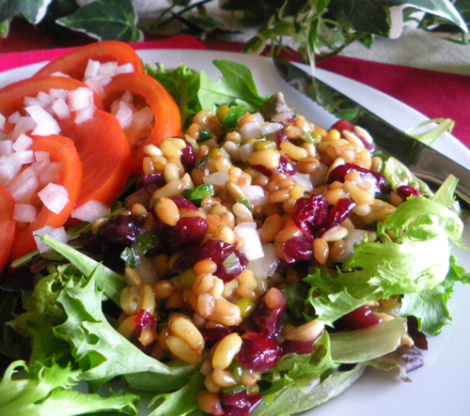 This is a very healthy grain salad. I have tried to duplicate the one I buy at the Overwaite deli. It is close but not completely there. Still this is very tasty. You do not want large servings ( apprx 1/2 cup serving) - it is very filling and intended to be served as a side dish. I like to have tomatoes and lettuce along with it or any other green salad.

First time using Kamut - thought it was tasty - I doubled the dressing ingredients - used raisins instead of cranberries and added toasted slivered almonds. Would make again.
Bring apprx 4 cups of water to a boil, add the Spelt and Kamut, return to boil.
Reduce heat to low, cook covered until the kernals are tender (apprx 45 minutes).
Drain well and set aside to cool.
Whisk together the dressing ingredients,starting with the vinegar, honey & mustard, add the oil slowly whisking all the while, finally whisk in the shallots, ginger & cilantro.
When the spelt & Kamut are at room temp mix in the cranberries, red pepper & sweet onion.
Pour the dressing over the salad ingredients, mix well, Cover and refrigerate over night.
Enjoy.