duonyte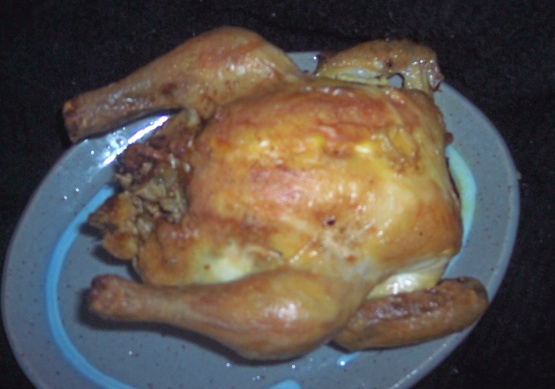 This is a very rich dish. Garlic lovers sing it's praise. This is another of my originals. Recommended side dishes: Rouqfort Green Beans Candied Dill Carrots *This can be cooked at camp in a dutch oven with coals ( majority of coals on lid). Place hen on heat proof plate set on bottle caps or small stones to keep off the bottom of oven. Add water to bottom of oven to just cover; keep water level constant; test for doneness after 1.5 hours. To cook on grill, use indirect heat and turn often. Please make sure you sew or pin closed the cavity...it is need to steam the stuffing. Also make sure you cook to the recommended temp please for the same reason.

We loved the taste of the cornish hen, but the stuffing did not work out as stuffing. First, I cooked this to 165 deg. internal (stuffing), as that is the USDA recommendation. I was afraid that 180 would dry it out too much. The result was that the garlic cloves were still hard. Also, next time I will probably substitute about 1 tbl. of fresh rosemary - this amount seemed to be too much, and the dry just did not do it for me. I treated the stuffing as a seasoning element and did not serve it after trying it out. I may try precooking the garlic cloves to see if they then finish up soft in the time it takes to roast the hen. But the skin was crisp and golden and the "stuffing" perfumed the meat beautifully.
Pre heat oven to 350o F.
Mix the vegetables,wine, herbs, and oil together in a bowl.
Chop and sweat the bacon in a cast iron skillet, add to vegetable mixture grease and all. Salt and pepper to taste.
Stuff the hen with this mixture and sew closed tightly ( this is needed to maintain moisture in the finished product ).
Salt and pepper the stufffed hen well.
Place hen on rack in shallow oven proof pan*. Brush with melted butter.
Roast for 1.5 to 2 hours, basting often, until juices run clear or instant read thermometer reads 180 o. Allow to sit for 10 minutes before serving.
Cut hen in half lengthwise and serve with the stuffing.