Spanish Crusted Roast Pork
Nif_H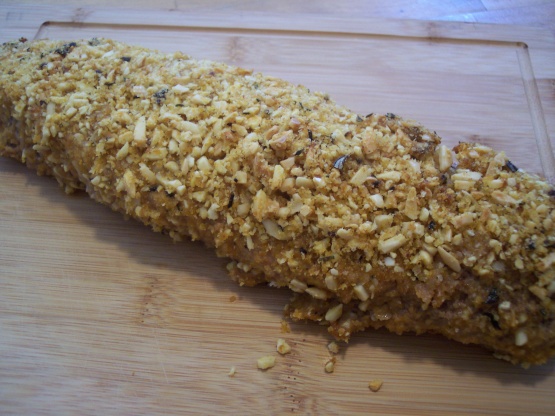 Post for ZWT 5. Recipe found on Epicurious website.

This roast pork recipe was very easy to make and had great flavor. In fact, I thought it was even tastier today when I reheated it for leftovers for my lunch. We made no changes to the recipe. I served with mashed potatoes and roasted zucchini. Thanks for a nice meal!
4

tablespoons olive oil, divided

3

garlic cloves, minced
3⁄4 cup panko breadcrumbs (Japanese bread crumbs)
3⁄4 cup sliced almonds, toasted, cooled, and coarsely ground in a food processor

4

teaspoons finely chopped rosemary
2 1⁄2 teaspoons smoked paprika, divided

2

tablespoons madeira wine

2

(1 lb) pork tenderloin
Preheat oven to 425°F.
Heat 2 tablespoon oil in a large heavy skillet over medium-high heat until it shimmers, then sauté garlic until pale golden, about 30 seconds.
Stir in panko, almonds, rosemary, 1/2 teaspoon pimentón, 1/4 teaspoon salt, and 1/8 teaspoon pepper.
Transfer to a large plate.
Stir together Madeira, remaining 2 tablespoons oil and 2 teaspoons paprika, and 1/4 teaspoon each of salt and pepper in a shallow dish.
Pat pork dry and rub all over with mixture.
Pat three fourths of crumbs all over pork, pressing gently to adhere, then sprinkle tops with remaining crumbs.
Roast until an instant-read thermometer inserted diagonally 2 inches into meat registers 145 to 150°F, about 20 minutes. (Check after 15 minutes to see if crumbs are getting too dark; if they are, tent loosely with foil.) Transfer pork to a cutting board.
Tent loosely with foil and let stand 10 minutes before slicing.