Spaghetti with Sausage and Peppers
VickyJ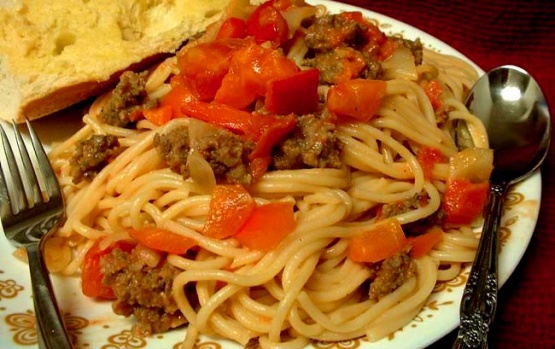 A fast, simple dish, which takes only about 30 minutes to make. Great for this busy time of the year.

This was very tasty...but I have to admit that I made a couple of changes.....nothing serious though. I found that the sauce was very thin and since we like a thicker sauce, I added the wine to the chicken bouillon (didn't have any chicken stock). I used 1 pkg. of the bouillon with 3 tblsp. of wine and about 2 tblsps. of cornstarch. Mixed this up and added it at the end to the sausage and pepper mixture. This thickened it up nicely and gave a lovely added flavour. Both DH and I loved this but it did make a lot....we both had healthy servings and there is more than enough for dinner tonight! It could easily serve 5 - 6!! I'll make this again, Summer Breeze....it's a keeper!
In a large frying pan, heat the oil over moderate heat.
Add the sausage and cook, turning, until browned and cooked through, about 8 minutes.
Remove from pan.
When cool enough, cut into 1/2 inch slices.
Add the onion, peppers and 3/4 teaspoon of the salt to the pan.
Cook, stirring frequently until the vegetables begin to brown, about 5 minutes.
Cover and cook, stirring occasionally until the vegetables are soft, about 3 minutes longer.
Add the garlic and cook, stirring, for about 30 seconds.
Add the tomatoes, broth, vermouth, the reserved sausage and any accumulated juices, the parsley and the remaining 1 teaspoon of salt, and bring to a simmer.
In a large pot of boiling salted water, cook the spaghetti until just done, about 12 minutes.
Drain and toss with the sausage and pepper mixture and the Parmesan.
Serve with more Parmesan.