Spaghetti With Creamy Tomato Meat Sauce & Cheese Topping (Li
Prep 10 mins
Cook 40 mins

A great light recipe from Rose Reisman. You can prepare sauce up to 2 days in advance.
Directions
Preheat oven to 350°F Spray a 13x9 inch glass baking dish with cooking spray.
In a nonstick saucepan, heat oil over medium heat; cook onions and garlic for 5 minutes or until softened. Stir in beef; cook for 5 minutes, or until no longer pink, stirring to break up meat. Stir in tomato sauce, basil, oregano, and hot pepper sauce. Reduce heat to a simmer; cook for 10 minutes, covered.
Meanwhile, in pot of boiling water, cook spaghetti for 8 to 10 minutes or until tender but firm; drain. In a food processor, combine sour cream, cheeses, and salt and pepper; purée until smooth.
Place drained spaghetti in baking dish. Spoon sour cream mixture on top of spaghetti, mixing well. Spoon tomato sauce evenly over top. Mix together topping ingredients; sprinkle over casserole.
Bake in centre of oven for 20 minutes. Spoon out to serve.
Most Helpful
We enjoyed this creamy pasta dish for lunch today. I had already sauted a pound of ground beef before realizing that I was to only use 1/2 a pound. I did end up adding about 6 ounces extra of pasta sauce so the beef mixture wouldn't be dry. I got all the way to the end of preparation and realized I hadn't bought any mozzarella cheese, so I used some left over provolone cheese and a bit of shredded cheddar on top. This kicks up plain ol' spaghetti a couple of notches and is great comfort food. Thanks, Redsie!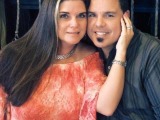 This creamy rich & tasty recipe w/lightened guilt is what the 5* rating is all about! Except for using extra grd beef due to my pkg size, I made it as written using Hunts Classic Italian Cheese & Garlic spaghetti sauce. I used my immersion blender to puree the cheeses & would never chg a part of this recipe. That is rare for me as I usually find these dishes in need of more salt & garlic or maybe even mushrooms as an add, but those ideas did not occur to me. My only regret is that no one grabbed my fork to remind me what moderation is all about! I am so stuffed, BUT am already thinking how great the leftovers will be tomorrow. *Kudos Redsie for this great recipe* :-)

We all enjoyed this pasta dish. I would do a couple of things differently next time. I really wished I had made my own pasta sauce for starters. I would add a bit more salt and pepper to the cheese part. We did add it at the table which also worked fine but it was a little flat without it. I don't own a food processor so the cheese was not as smooth as it would have been otherwise but that is not the fault of the recipe. It still was nice and cheesy but likely would have been a bit more 'saucy'. I look forward to making this again with the changes mentioned. Thanks for the recipe, Redsie.