Spaghetti With Chicken Meatballs
Jubes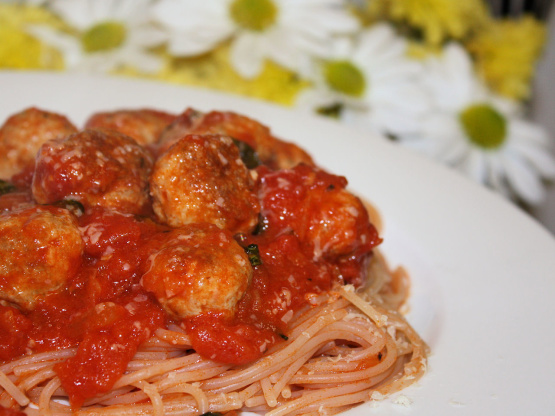 This is another fantastic recipe from The Essential Pasta Cookbook. I have altered it only slightly from the original. It's one of my favourites, and another of those recipes that looks really impressive on the table!
Mix the chicken mince, parmesan, breadcrumbs, garlic, egg, parsley, and sage. Season to taste with salt and black pepper. Shape the mixture into small balls, and chill for about 30 minutes.
Heat the oil in a shallow pan, and fry the balls until golden brown. Turn them often by gently shaking the pan. Drain on paper towel.
To make the sauce, heat the second measurement of oil in a large saucepan. Add the onion and fry for 1-2 minutes. Add the tomato and bay leaves, cover and bring to the boil, stirring occasionally. Reduce the heat to low, partially cover, and cook for 60 minutes.
Remove the bay leaves.
Add the meatballs to the sauce, along with the basil leaves and freshly ground black pepper, and simmer for 10-15 minutes.
While the sauce is simmering, cook the spaghetti in a pot of boiling water until al dente.
Add some sauce to the pasta and toss to distribute.
Serve the pasta in individual bowls, topped with meatballs and sauce.