Spaghetti Della Carne Di Cervo(Aka Venison Spaghetti)
CandyTX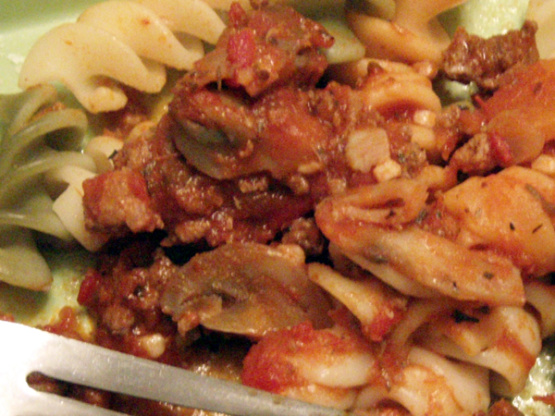 Had to use us some of that fresh deer meat in the freezer so I threw this together based on my wife's usual "ragu" sauce.

We subbed ground turkey for the chuck and used some venison that a friend gave us... this was SO good. I think it maybe could have used a little more garlic, but we are garlic freaks in this house. Tom didn't notice the cooking time so we ended up ordering pizza the night he made it and heating it up in the crockpot a couple of days later... it was REALLY good, the flavor really got through! Thank you for sharing this!
Sauté onions, celery and garlic in very large pot in 2 tablespoons olive oil until almost translucent.
Add meats, carrots and begin to cook until meat is done.
Add all remaining ingredients: canned tomatoes and sauce and mushrooms and spices, Worcestershire and wine.
Simmer for a few hours--the longer the better stirring occasionally.
Serve over favorite pasta with some garlic bread.