Southwestern Chicken Pot Pie
Pamela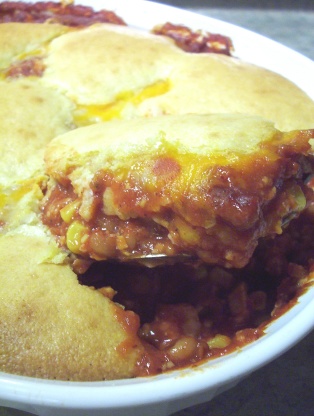 Mmmmmmmmm, really delish and a comfort food for dh and I. Easy to prepare, not much time involved. My dh showed me this in our state daily newspaper and said he'd like for me to try it. I did and fix it alot now. I serve it with warm flour tortilla's w/butter and sometimes warmed nacho chips and salsa. It's very filling and if we don't want it the next day, I have frozen it with success. Also, I have used a can of green chilis instead of the adobo seasoning and think you could spice it as hot as you want with jalepenos. We just don't do hot or really spicy. Also, the last time I only had cheddar cheese and it turned out fine, but it is better with the monterey jack/cheddar blend. Thanks for trying one of our favorite dinners!

Hi Kitty...this was a wonderful meal for DH and myself for dinner...it was just delicious, the only thing that I changed was, I did not have black beans, so I used some kidney beans instead, and used a pinch of hot pepper powder instead of the chipotle powder (I will just have to purchase some next time I go shopping), as I will definately be making this again...the corn muffin mix on top was just so good...I made everything in one large over-proof skillet, and then baked it in the oven in the same skillet...This is a winner for sure Kitty, we enjoyed it so much, thanks for posting :-)...KC
Preheat oven to 375 degrees.
Heat oil in large skillet over med-hi heat add chicken and saute 5-7 minutes or until done.
Add beans, corn, tomato sauce and seasonings to skillet.
Bring to a boil over med heat.
Remove from heat and stir in 1 cup shredded cheese.
Pour into a 2 1/2qt casserole.
Top with remaining cheese.
Prepare corn muffin mix batter as directed on package.
Spoon dollops of the batter over chicken mixture.
Bake 25-30minutes or until corn bread is golden brown.
You may serve with warm flour tortillas w/butter and a salad if desired.