Southern Peanut Butter Cheesecake
PumpKIM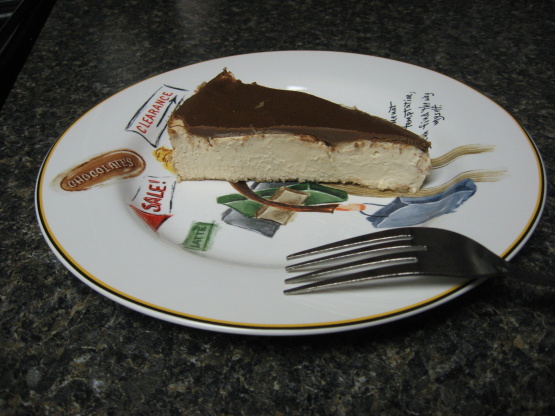 From PeanutButterLovers.com Low fat, low saturated fat and low cholesterol Per serving: 140 calories, 13g protein, 4.5g total fat (2g saturated fat), 14g carbohydrates, 0g dietary fiber, 10mg cholesterol, 240mg sodium. Daily Value: 14% folate, 15% vitamin A, 20% calcium, 4% iron. Food Exchanges: 1/2 Milk, 3/4 Bread, 1/4 Meat, 1/2 Fat
Coat a 9-inch spring form pan with cooking spray.
Sprinkle graham cracker crumbs evenly over the bottom of pan. Set aside. Process the cream cheese, sour cream and cream cheese in a food processor until smooth.
Add the peanut butter and mix.
Slowly add the sugar and vanilla extract.
Slowly pour the eggs through the food chute with the processor running.
Blend until combined.
Spoon the mixture over the graham cracker crumbs.
Bake in a 300F oven for 50 minutes. Center will be soft, but will firm when chilled.
Turn the oven off and leave the cheesecake in the oven for 30 more minutes.
Remove from oven; let cool to room temperature on a wire rack.
Cover and chill 8 hours.