Southern Green Beans & Bacon
loof751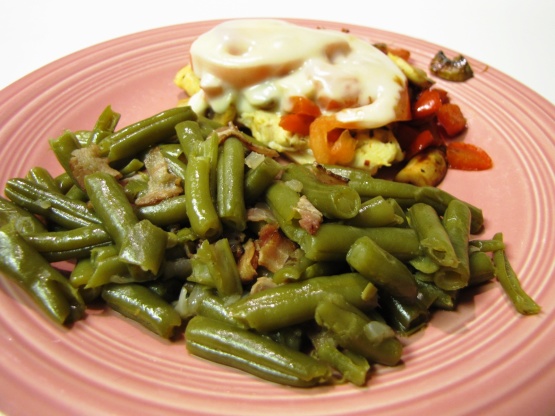 This is definitely an unhealthy old southern recipe that we continue to make for all large family gatherings. My oldest son (age 23) makes this when he goes to friends' homes. He said he's never had any left to bring home.
Slice bacon into 1 inch pieces, (easiest way is to cut with scissors).
Put bacon into a large pot and begin to fry.
While bacon is frying, coarsely chop onion.
When bacon is about 1/2 way done, add onion and continue frying until bacon is semi crisp. (Do NOT drain grease).
Drain green beans and dump into bacon and onions. Stir.
Continue to cook for 30 minutes on medium, stirring occasionally.
Serve.