Prep 15 mins
Cook 30 mins
So good. So easy. Serve over rice.
Directions
Saute steak in oil until brown.
Add onions, carrots, broth, mushrooms, salt, garlic powder,pepper, and celery.
Cook until tender.
Stir together cornstarch and water.
Add to steak mixture, stirring constantly until thickened.
Reviews
Most Helpful
I really liked the flavor of this! I stir fried the vegies with the meat for about 5 minutes before adding the broth and seasonings. I served it with baked potatoes stuffed with brie, but did not put the meat mixture over anything. My son thought it tasted sort of like stew. Very enjoyable. Thank you.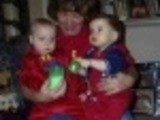 An easy to put together dish. I also left out the celery and added fresh garlic instead of the garlic powder. I served it over noodles. Very good, Mae. Thanks for sharing this recipe.

My family liked this one...and they are picky about their steak. Didn't add all the celery as they don't like it very well. Served with mashed potatoes and green beans.