PaulaG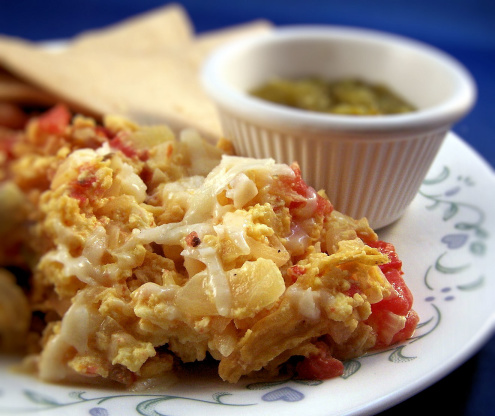 Just a Mexican version of scrambled eggs. I usually put in 2 jalapeno pepper finely chopped. You may want to drain off some fluid (from the tomatoes) before adding the eggs

You know, this is a simple idea and simple ingredients but it is REALLY good together. I love breakfast burritos and this was a nice way to use up some tomatos. This one I will be making again.
Cook the onion and pepper in a skillet in the butter until the onion is translucent.
Add tomatoes.
simmer 5 minutes.
Add the eggs.
Cook like scrambled eggs.
When cooked sprinkle the cheese over the eggs and allow it to melt.
Serve warm with hot tortillas and salsa.