DuChick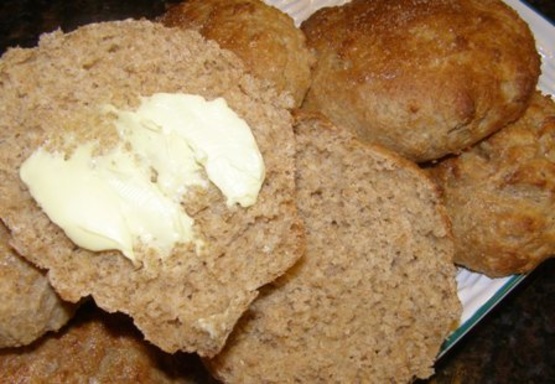 Adapted from "Classic Vegetarian Cuisine" by Rosemary Moon. Whole wheat, and fast to make. Make 6 if you'd like to use them as sandwich rolls, or make 8 if you'd like smaller dinner rolls. Cook time includes resting time.

We really liked these! Much like a biscuit or a sandwich roll, we enjoyed these alongside our steak dinner tonight. Tomorrow, one of these little cakes will make for a great sandwich in my lunchbox. I did have to add about 1/4 cup more flour in order to knead the dough. It was just too sticky. I loved that this recipe doesn't require rolling and cutting. Easy and healthy! Thanks for sharing!
Preheat oven to 425°F.
Lightly grease a cookie sheet.
Warm milk and butter to 100-120°F.
In a small bowl, combine milk mixture, yeast, sugar, and egg.
In a large bowl, combine flour and salt. Work in the wet ingredients to make a soft dough.
Knead gently until smooth.
Form 6 to 8 round cakes.
Place cakes on a cookie sheet and let rise in a warm place for 20 minute.
Bake about 15 minutes. If a brown top is desired, glaze with egg or milk and sugar a few minutes before removing from oven.