Soft and Fudgy Peanut Butter Cookies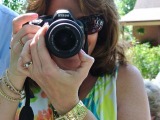 These cookies weren't supposed to be! A Zaar chef, who shall remain nameless, ;) posted a recipe for a chocolate cookie with pb chips in it. But instead of listing butter as the first ingredient, she accidentally listed peanut butter. After I had mixed everything together, I knew something was wrong because I ended up with a bowl full of crumbs, not dough. To try and salvage the ingredients, I added the milk, left out the pb chips and formed them like traditional pb cookies. Thankfully, the resulting cookies were soft and tasty so I decided to share. :)
Directions
Place peanut butter and sugar in a large bowl and beat until thoroughly combined.
Mix in the eggs and vanilla.
Combine the flour, cocoa, baking soda and salt in a small bowl.
Alternately add with the milk to the peanut butter mixture, mixing thoroughly. (How thick your peanut butter is will determine if you need more milk or not.).
Roll into one inch balls and place on an ungreased cookie sheet about 2 inches apart.
Use a fork to flatten with the traditional crisscross pattern of a peanut butter cookie.
Bake at 350° for 8 minutes. Allow to cool on cookie sheet slightly before removing to a cooling rack.
Reviews
Most Helpful
I made these cookies on 12/21/07,and I'm so embarrassed that I haven't rated this until now.The smell as they were coming out of the oven was great,and the taste of the warm cookie was very good.But I must say that as they cooled the cookie seemed to lose some of the "chewy" texture.Not sure if I will make these again,but thanks for posting."Keep Smiling"
Loved the flavour - very fudgey yet the pb was still very noticeable. The texture was a little bit odd, though. Kinda chewy, kinda soft... Easy recipe - I had to use 1/2 cup of milk to make the dough.
This will now be one of my favorite cookies! I love the fudgy moist texture and the subtle peanut butter taste! Thanks for the recipe! I did use more than 1/4 cup of milk- actually used buttermilk cause that's what I had-since I used organic PB and it was a lot thicker than normal PB.