loof751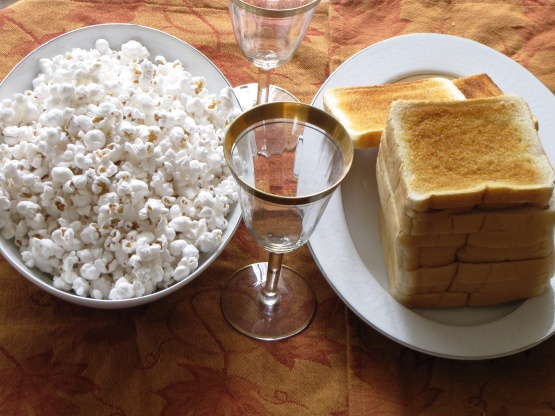 This is the Thanksgiving meal that Charlie Brown served his friends. Snoopy was in charge of the toast and popcorn.

I made this recipe in honor of my aunt Mary, who is a huge Snoopy fan and one of the kindest people you'd ever meet. I made half of the recipe and enjoyed popping popcorn the "real way". Thanks for sharing this - everyone needs a little Snoopy in their life! Made for Spring PAC 2009
Toast bread in toaster.
Butter toast, stack high.
In large pot, over medium high heat, melt coconut oil.
Add in popcorn kernels and cover.
Shake pot virgorously.
When popping begins, lift cover off just a smidge so steam escapes but popcorn does not.
When popping slows to 1 kernel per second, remove from heat.
Add salt and pour into a large bowl. Add butter if desired.
Enjoy!