Pixie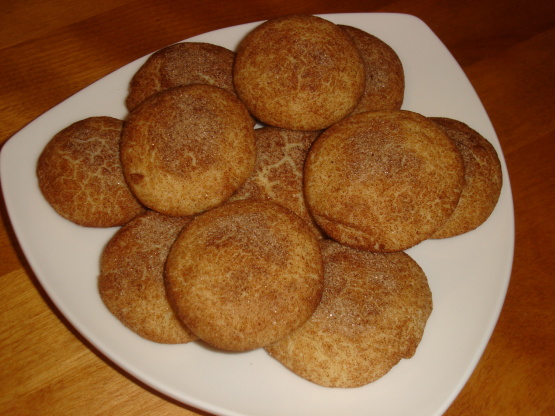 These Citrus-flavored cookies with their cinnamon sugar coating have appeared under many different names in regional cookbooks in the US and Canada since the last century. This recipe calls for grated lemon or orange rind, just giving it a little different flavor - so delicious!!

Top Review by Pixie
You can't eat just one! These are delicious, especially warm with a cup of tea. Very easy cookie to make that uses things I always have around. Great for those times when you to want to make something but don't feel like shopping first. Thanks for posting!
Preheat oven to 375°F Prepare two baking sheets by brushing with melted butter.
Sift together the flour, baking soda, salt and grated nutmeg.
Cream together the butter and sugar and add the egg, egg yolk, vanilla and lemon or orange rind. Beat until lilght and fluffy.
Add the sifted ingredients and mix well. Scrape down the sides, cover the bowl with a piece of plastic wrap and refrigerate for 30 minutes.
Mix the cinnamon and sugar together in a amall bowl.
Using a teaspoon, scoop up small amounts of the dough and roll them into balls about 1-inch diameter. Roll the balls in the cinnamon sugar and use enough to fill the prepared bakng sheets, spacing about 2-inches apart.
Slightly flatten the balls and bake for about 12 minutes, or until the cookies are just starting to brown around the edges and slide easily from the baking sheets. Cool on a wire rack. Repeat with the remaining mixture, preparing the sheets as before.
CHEF'S TIP: If you are baking more than one sheet of cookies in a non-convection oven, swap them around halfway through, to make sure they cook evenly.