Smoked Sausage and Apples
Bergy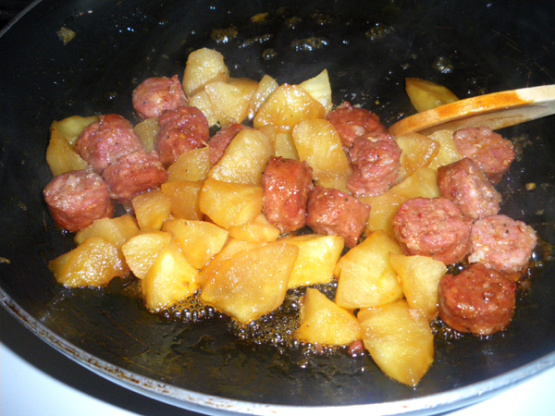 This is a real easy way to fix smoked sausage. I do it in the microwave and usually serve it with a green veggie and corn bread.

Top Review by Bergy
What a delightful blend of flavors - the apples were like velvet. I don't microwave so I put everything (following te recipe) in a fry pan that has a tight lid- heated it through for on medium heat for 10 minutes, removed the lid and gave it a few stirs cooked for anothe 7 minutes until everything was golden and the sausages heated through. I used a Portugues Linguisse sausage very spicy- great with the apples and onions Thanks MsSally for a real winner 11 July 09 Made again this time I left out the onions because I was serving it with Chili. Once again I made it in a wok Wonderful
Slice smoked sausage into 1 inch coins, and place in a microwavable bowl with a lid.
Add apples and onions.
Sprinkle brown sugar over all. Add water. Cover.
Microwave on high for about 5 mins or till apples are tender. (I use my fresh vegetable button for hard veggies).
May season with salt and pepper if care to. We normally don't.
Note: If you do not have a bowl with lid that will go into microwave, you may use plastic wrap, just be sure to vent it, by folding in one corner of wrap to make a little hole.