Slow Cooker Honey Sauce Wingettes
gailanng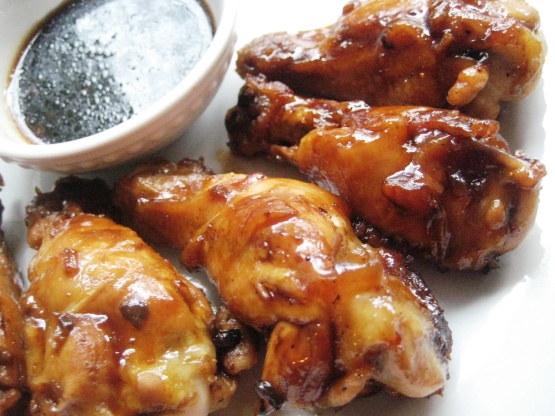 This is a perfect appetizer for a get together, or for the guys watching the game.

These were tasty tender wings. I did not use any soy sauce, only because I totally missed it until after everything was in the crock pot. They cooked in the crockpot for 2 hours and I broiled them again after I took them out just to crisp them up and everything worked out well. Will make these again, thanks for sharing your lovely recipe :)
Rinse chicken, pat dry and sprinkle very lightly with salt and pepper.
Place wingettes on broiler pan; broil for 20 minutes, 10 minutes on each side.
Transfer to a slow cooker sprayed with vegetable cooking spray.
In a large bowl, combine honey, soy sauce, chili sauce, oil, and garlic; spoon over wingettes.
Cover aand cook on low for 4 to 5 hours, or on high for 2 to 2-1/2 hours.
Garnish with dried parsley.