Derf2440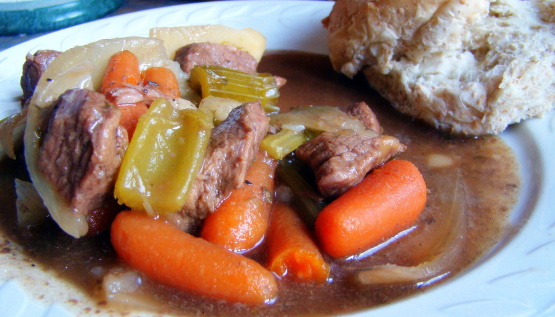 This is another comfort food favorite that my Mother makes that slow cooks for hours. This recipe can be doubled or tripled. Add as many vegetables as you choose. You can also add peas. At our house we serve the stew with rice.
It doesen't get any easier than this! I browned the meat on the stove before adding it to the crockpot, and layered the remaining ingredients in the order given. I used about 4 handfuls of baby carrots, and 4 red potatoes, leaving the skins on. I cooked it on "High" for 3 hours and then turned it down to "Low" for another 3 hours. My family loved the stew, and I loved the fact that it was so quick and easy to put together. Thank you for sharing! *Made for 2010 Spring PAC*
Layer in large casserole or Dutch oven in order given.
Cover and bake for 5 hours at 275 degrees fahrenheit.
Note: This can also be cooked in a crock pot on high.