Slice and Bake Chocolate Chip Cookies
Whisper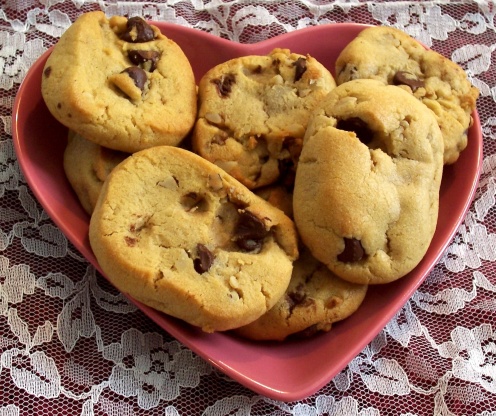 These cookies are rolled into four logs and stored in the refrigerator. Just slice and bake when you want warm cookies from the oven.

I am so happy to be able to review these cookies now! I have made them twice. The first batch I gave away as a Christmas present. As Whisper said, the dough was a bit dry and crumbly. This time, I used a tablespoon of vanilla and the dough was much easier to work with. I think size of egg matters as well. I picked out the largest I could find in the box. It was probably closer to the extra-large or jumbo size than large. I left out the nuts and added 1/2 teaspoon of salt, since that seemed to be missing from the recipe. From the frozen state, my cookies baked in about 10 minutes. My friends baked theirs this past week while they had out of town company. They pronounced them "great". This is such a cool recipe. I live a good ways out of town and like to be able to feed the UPS drivers or anybody else that ends up on my doorstep. I think I'm going to take some (baked) to my chiropractor this afternoon. Anybody would be happy to get a batch of ready to bake homemade dough. What a great thing to put into a food gift basket! The cookies are absolutely delicious!!!! Marie, thank you for the fantastic recipe. It is one I will treasure and use always!
Beat together butter, brown sugar and powdered sugar.
Add eggs and vanilla and mix well.
Combine flour and baking soda and add.
Stir in chocolate chips and walnuts.
Mold dough into 4 12" logs and wrap in plastic wrap.
Store in refrigerator for at least an hour or longer, if desired.
Preheat oven to 350°.
Cut dough into 1/2" thick slices and place on baking sheet.
Bake for about 8 minutes or until golden brown.