Simply Sensational Ramen Cabbage Salad
J-Lynn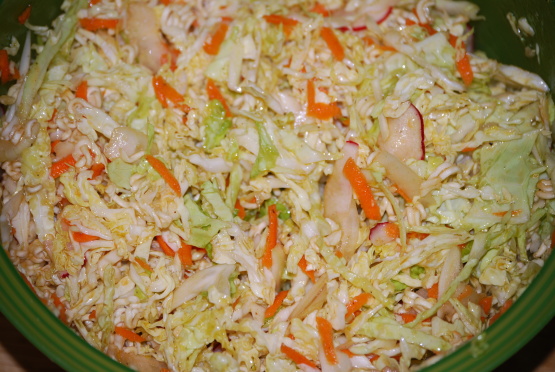 This is the most simple, delicious salad ever! Every time I take it to an event, everyone wants the recipe. They are so surprised when they see how simple it is. I sometimes add cooked chicken and eat this as a meal for myself. Doesn't get any better than this!!! Hope you'll try:) Cook time is refrigeration time.

Adding the ramen was a great twist on my regular vegetable slaw! My two 8 year old daughters, my 3 year old son, myself, my husband, and my brother-in-law all really liked it. One of my daughters begged for seconds and the other asked if we could have it again for dinner!

I used one head of green cabbage (would have liked to use some radicchio or purple cabbage as well, but didn't have any), about 4 carrots, and a few green onions for the slaw. Getting it all shredded was easy with the food processor and grater/slicer attachments. I used rice vinegar and a combination of sesame oil and safflower oil along with some sugar, salt, and pepper for the dressing (6Tbs. rice vinegar, 3Tbs. safflower oil, 1Tbs. sesame oil, 1Tbs. sugar, 1.5 tsp. salt and a few grinds of pepper) and then I mixed the beef seasoning packets and mixed those with the crunched up ramen and put some ramen into each dish as I served it. I will store the remaining seasoned ramen separately from the leftover slaw and just add it in before serving.

This was great right after mixing, so I bet letting it actually sit will be even tastier!
In large bowl, combine slaw mix and crushed ramen noodles.
Add green onion, pepper, salt, garlic powder, sesame seed, and almonds.
In seperate bowl, combine dressing ingredients and the two reserved Ramen noodle seasoning packets and whisk well.
Pour dressing over salad and mix well.
Refrigerate at least 6 hrs.
before serving, mixing well at least once.
Mix before serving; Serve chilled.