Dr. Paul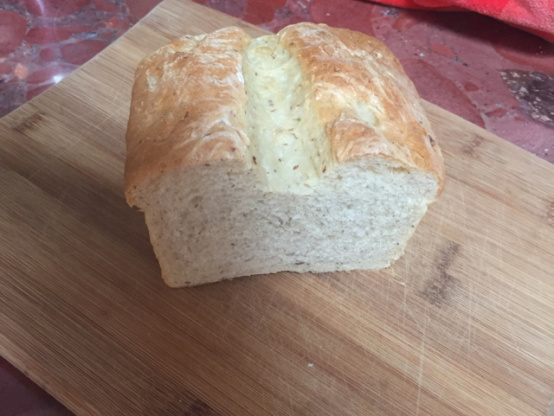 The recipe, and my instructions are adapted from a videorecording that a new baker might find helpful. " Perfect bread, how to conquer bread making." by Betsy Oppenneer, The Breadworks, 1990, Norwich,
This is really a simple recipe and easy to make. My main quibble is that mine came out a little too dense in texture. I think that may be because my rapid rise yeast was a little past it's expiration date. The bread still rose just fine so it must have been OK. Based on ease of preparation I'd give it a four star but from a flavor perspective it's only a three. I'm still game to experiment with this basic recipe though. I'm going to try to up the sugar a bit and maybe try raisin and cinnamon in it. And definitely get unexpired yeast.
591.47

ml water, at a temperature between 105 and 115 F

2

(14.17 g) package yeast

29.58

ml sugar

9.85

ml salt

29.58

ml vegetable oil

1537.83

ml flour
Mix the water, yeast, and sugar together in a small bowl.
Add the salt to 5 1/2 cups of the flour in a large bowl.
Set the other cup of flour aside. Mix the liquid and the dry together and then add the oil.
Mix until it comes away from the sides of the bowl, sprinkle some of the last cup of flour on a wooden surface, and knead until the dough gets sticky again.
Keep adding more flour and keep kneading.
Push forward, fold over, push forward, fold over.
I do this one handed because I have to, but it works.
Put a little oil in the large bowl, that has been scraped clean, add the kneaded dough and roll it over a few times to coat. Cover, let stand for about one hour in a warm place. Punch down, cut the dough in half and roll it out to about a 9 inch by 18 inch rectangle. Roll it up, tuck in the ends and place in a very well lubricated ( I use crisco) glass baking dish.
Repeat with the other half, and then cover with a cloth and let it rise again for about 45 minutes.
Use a sharp knife to put a few slashes in the top, brush with a little beaten egg or milk, and put into a pre-heated 375 (f) oven for 30 minutes.
The bread is done when an instant read thermometer reads 190 (f).