Edesia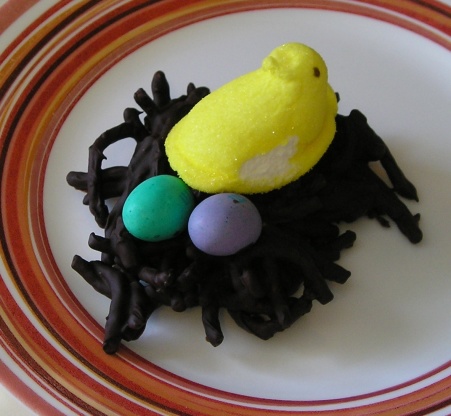 Just my take on a favorite recipe!! There are so many out there but this is the way I like to make them!! When I made this today I yielded 6 large muffin tins, 6 small, and two left over "hand formed" nests. ;) Total of 14 assorted sizes - depends on your pans what you will yield. Cook time is chill time.

Loved these so much this past Easter! I can't believe I forgot to review them. I made a couple large ones in a bigger muffin tin and then a full tin of the mini muffin ones. They all turned out so cute and delicious with the peanut M&M centers and they were tasty to boot! :) Thank you!
Heat water in double boiler over medium heat and add chocolate chips to top portion.
When chocolate begins to melt, add peanut butter and continue to stir until creamy.
Add broken chow mein noodles, stirring until completely coated.
Remove from heat and place upper portion on a folded towel to allow cooling while you prepare tins.
Spray muffin tins (I liked the large size best, but make both for varied sizes) with cooking spray (such as Pam).
Spoon generous amount of mixture into each cup creating a well in the center as you go.
Continue until all of mixture is used up.
Place jelly beans, M&M's Peeps or other candies for garnish as desired.
Chill in refridgerator for at least 1 hour or until chocolate has hardened.
Remove from tins and serve or package to gift - should be used within a couple of days.
For additional garnish, can be served on dyed green coconut and tied in cellophane bundles with ribbons to give as gifts.
Enjoy!