Simple Caramelized Pineapple
alligirl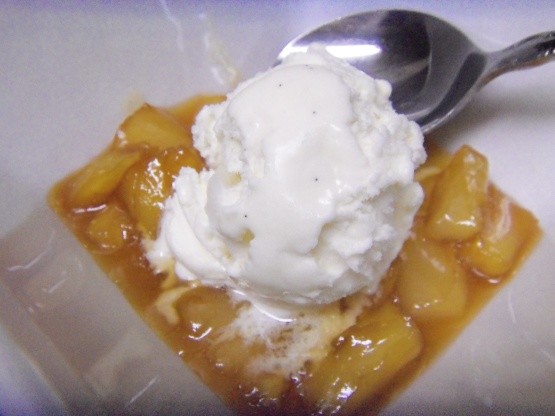 Found in All*You Magazine many years ago. I love making this dish for our family - very simple and I can tweak it with different toppings so it always seems just a bit different.

Enjoyed this dessert last night, as a nice change of pace. The caramelization of the pineapple really adds to the flavor. I think I will add the banana next time (a la Foster preparation) for a little more tropical in the bowl! I chose to add a simple vanilla bean ice cream, so as not to disguise the flavors from the fruit. Thanks for sharing a simple, tasty recipe, HokiesMom!
Slice pineapple into eight rings and cut each ring into 8 pieces.
Warm butter in a large skillet over medium high heat. When butter begins to foam, add the pineapple and brown sugar (this is when you'd add the bananas if using that option).
Cook, stirring frequently and make sure you are turning the pineapple chunks over while stirring. This should take about 4-5 minutes - just until the pineapple is brown and all the sugar is dissolved.
Remove from heat and place into a shallow serving bowls and let cool 2-3 minutes.
Place a scoop of ice cream/frozen yogurt on each serving and top with other toppings if desired. Or you can serve with just a dollop of freshly whipped cream and a sprinkle of cinnamon.