Silverbeet (Chard) Relish for Duck and Other White Meats
Peter J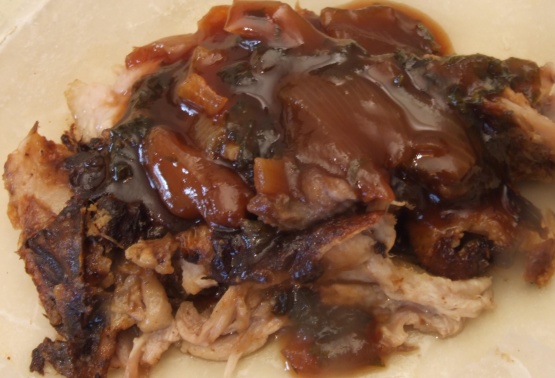 I was cooking duck and saw the idea of serving with rhubarb relish which sounded nice, but then realised what I thought was rhubarb in the fridge was really silverbeet / chard. I decided to go ahead with the relish anyway and adjust everything to give it a slightly more tart taste that goes really well with a rich meat like duck. I haven't tried yet but think it would also be good with chicken and pork if you prefer a relish that is not so sweet. It is up to you how you chop the onion and silverbeet, I normally don't go too far because I like the texture of a few pieces of vegetables showing.
This didn't end up as I expected...it was more of a sauce than a relish. BUT IT WAS DEEEELICIOUS!!! I used chard stems, 1 large onion that yielded 2c & followed directions better than usual. ;) It was still very liquidy after 30 minutes of rollicking simmer so I chilled it, hoping it would thicken up. Nah. But it was tremendously sweet-sour delicious over our grilled chicken & everybody LOVED it. THE PICKY ONE put some over her sauteed swiss chard, too. :) Made just in time for the 6/09 Aussie swap.
If you are planning to store in a jar sterilize before starting.
Mix all ingredients well in a saucepan and start cooking over medium heat until it starts to boil.
Reduce heat to medium-low and continue cooking around 30 minutes more stirring occasionally until desired consistency. You want it to continue bubbling but not boil and froth up.
Remove from heat for 10 minutes or so to cool, transfer to jar and store in fridge. I find relish is always nicer cooled so worth doing a bit in advance even if you are preparing the same day.