Sicilian Style Roasted Vegetables With Balsamic Syrup
Prep 20 mins
Cook 35 mins

One of the winning recipes from up and coming student chefs! This would be a great side dish for the holidays! Adapted from Vegetarian Times magazine.
Directions
Preheat oven to 375*F.
Toss green beans and bell pepper strips with oil, salt, and pepper in a large bowl. Spread in a single layer on a baking sheet and roast 20-25 minutes or until vegetables are crisp tender and beginning to brown, stirring occasionally.
Bring the balsamic vinegar to a boil in a small saucepan over medium high heat. Simmer 5-7 minutes, or until vinegar is thick and syrupy, stirring occasionally.
Toss green bean mixutre with orange juice, lemon jucie, and orange zest in a large bowl. Season with salt and pepper, if desired.
Transfer to a serving dish, and drizzle with the balsamic vinegar syrup. Enjoy!
Reviews
Most Helpful
I love roasted vegetables and this recipe did not disappoint! Very flavorful and fresh tasting. I also added some Meyer lemon. This went perfectly with our steak and baked potato dinner. Thanks for sharing this keeper. Made for Please Review My Recipe Tag Game.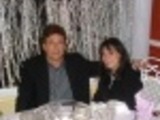 *Made for Australia/NZ Swap #36* Since our visit to Sicily last year, I truly notice any recipe which says "Sicily"! This was a tasty prep of fresh veggies with a TBSP of Meyer lemon juice (from a Zaar buddy !), and just the right drizzle of Balsamic ! Will be fixing this again. thanks for posting, Sharon !