Sicilian Steak (Bistecca Alla Siciliana)
PetsRus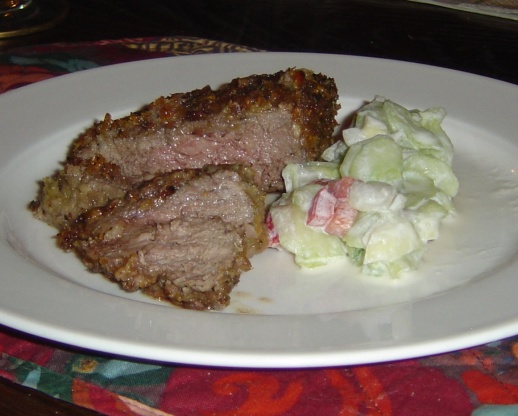 I found this recipe in the "Authentic Italian Recipes Cookbook", compiled by The Christopher Columbus Ladies Auxiliary of San Antonio, Texas. My husband loves this steak! It's a nice change from the normal way we grill our steaks. I serve it with either Fettuccini Alfredo or baked potatoes.

Top Review by yooper
Thank you Kim D! There used to be a local restaraunt that served this dish. I always pestered the owner for the recipe, and he never would comply. The place closed down, and he died. One taste of this and it was like I was back in that restaraunt! I served this with my "parmesan and procuitto mashed potatoes" and a blend of sauteed zuchinni, onions, peppers and mushrooms. These steaks rock!
Marinate steaks in garlic and olive oil for 30 minutes (15 minutes on each side).
Combine cheese, oregano and breadcrumbs, salt and pepper.
Dip steaks in the bread mixture.
Cook steaks under broiler, turning once.
For rare, cook 8-10 minutes; for medium cook 12-14 minutes; for well done cook 18-20 minutes.